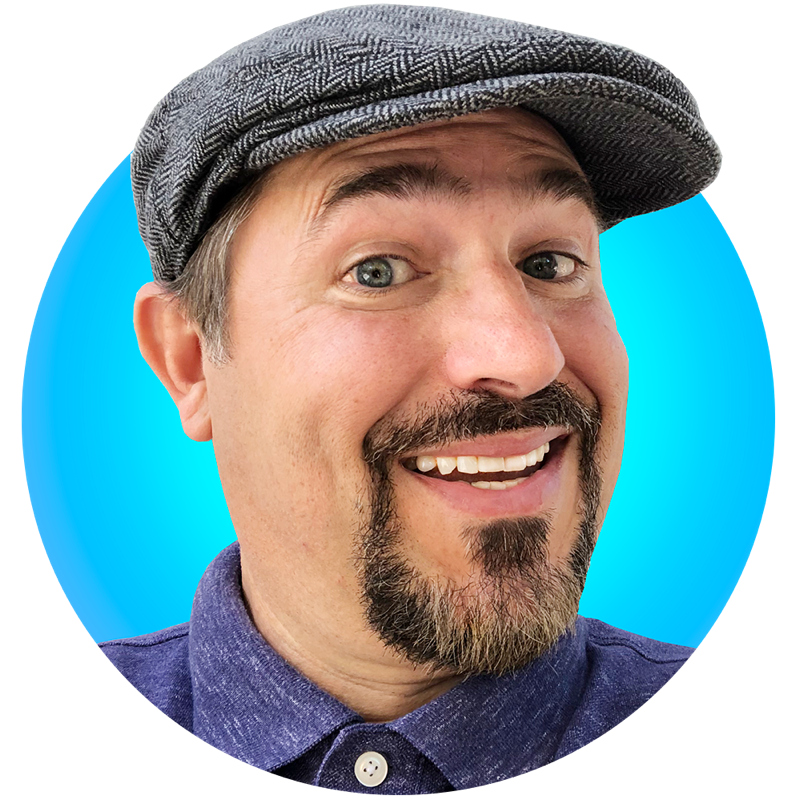 Dave Sherrod
UX/UI Design Leader
Link by Prudential
Prudential's goal management and tracking platform.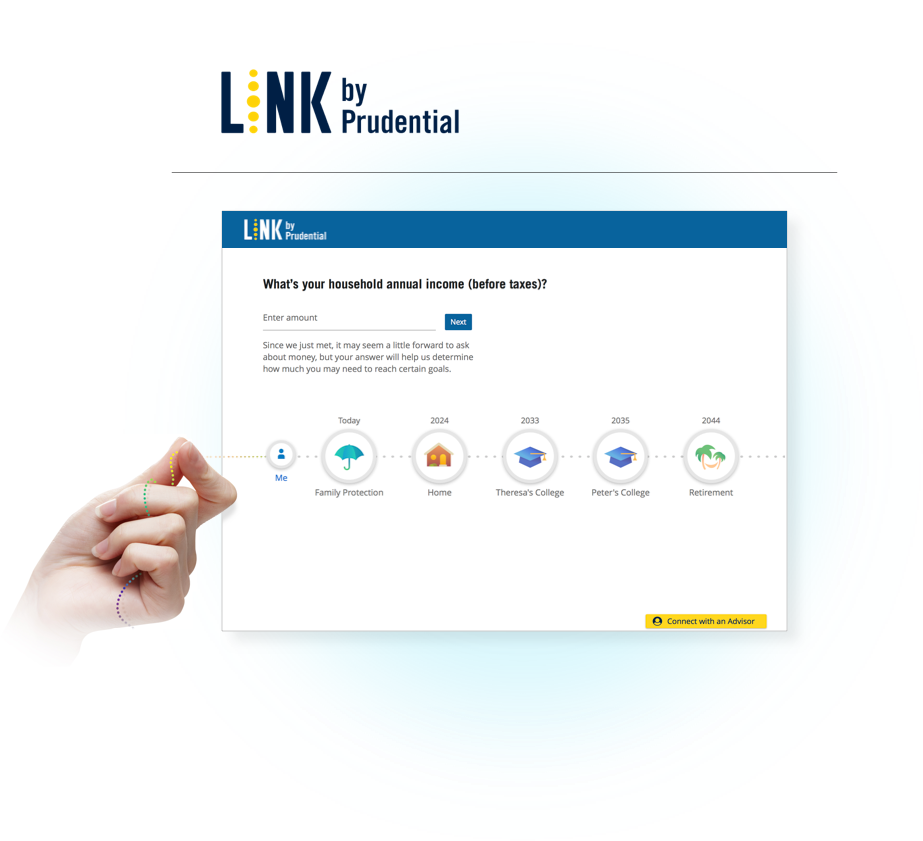 Link Context & Challenge
Prudential had been providing investment advisory services to wholesale clients since 2013. A life-stage based client engagement model contributed to yielding significant growth and client loyalty since then.
Our challenge was to build on Prudential's existing Advisory Services success by creating a "robo-advisory" platform and client/prospect facing tool to reach new clients, better service existing clients, and provide a self-management aspect to Prudential's greater advisory offerings.
My Role
Provided UI/Visual/Interaction Design Direction in a pod leader role (UX/IA, Visual Design, Front-End Dev)


End-to-end Prototyping and Visual Lead for the Prudential Link platform


Contributing UX Designer, Researcher, and User Testing Moderator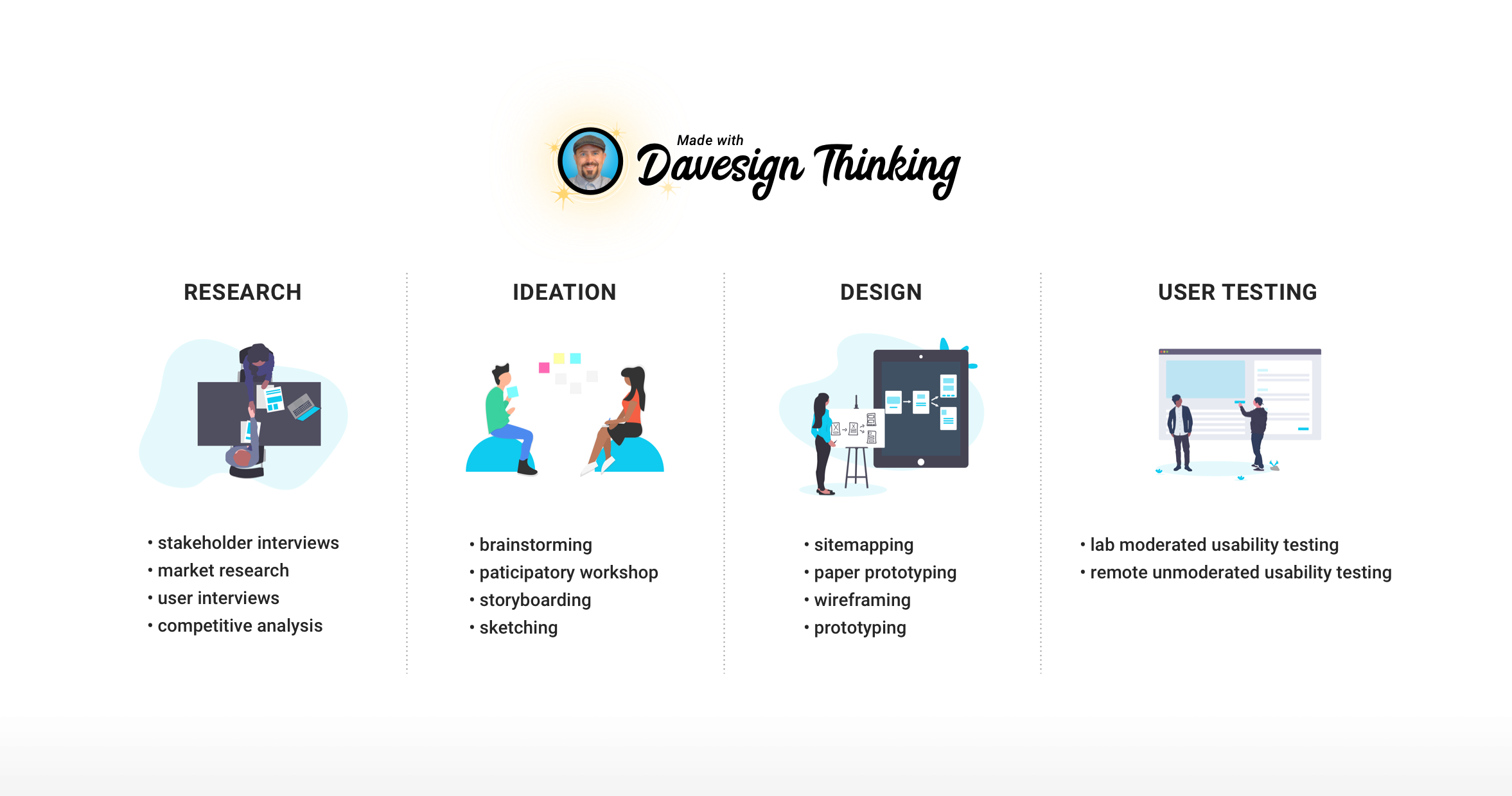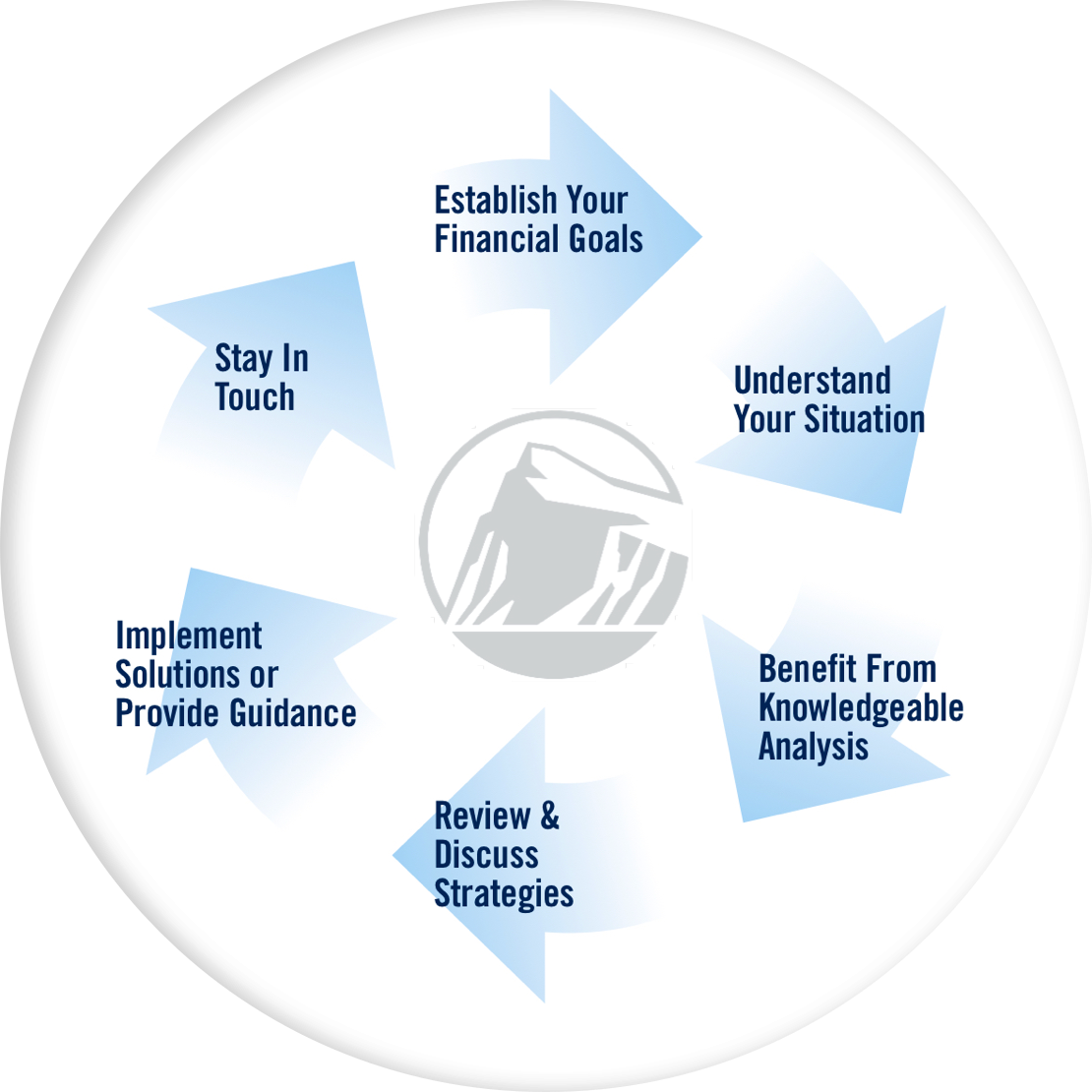 Assessing Advisory Prospect Feedback
Our collective team benefited greatly from the offline Advisory related feedback that had been generated since 2013. This helped us get a sense of clients expectations regarding client task and goal facilitation, advisor/client relationship interaction, and a number of other categorized insight.
This historical feedback also helped give us a good understanding of the human side of Advisory interaction. One of our early goals was to preserve the human element as much as possible as we the translated the formerly exclusively in-person and on-the-phone advisor/client interaction into robo/digital equivalence.
This meant that despite the self-directed framing of the product, Link needed an ongoing narrative of help and assistance throughout the experience. It also needed to facilitate financial plan-building, portfolio/performance status checks, etc.,forward-looking helpful content, and feel personalized.
We poured through articles and studies for additional insight and surveyed our Advisory clients via Survey Monkey. Questions were scripted to gain insight about customer financial goal-setting and management, current and future goals, and comfort levels associated with self-directed versus managed account investment.
Abridged examples of guiding survey questions:
How comfortable are you in managing your own investments? (0 Not at All - 10 Very Comfortable)

What age would you like to retire?

Are you confident you will be able to retire per your desired timetable?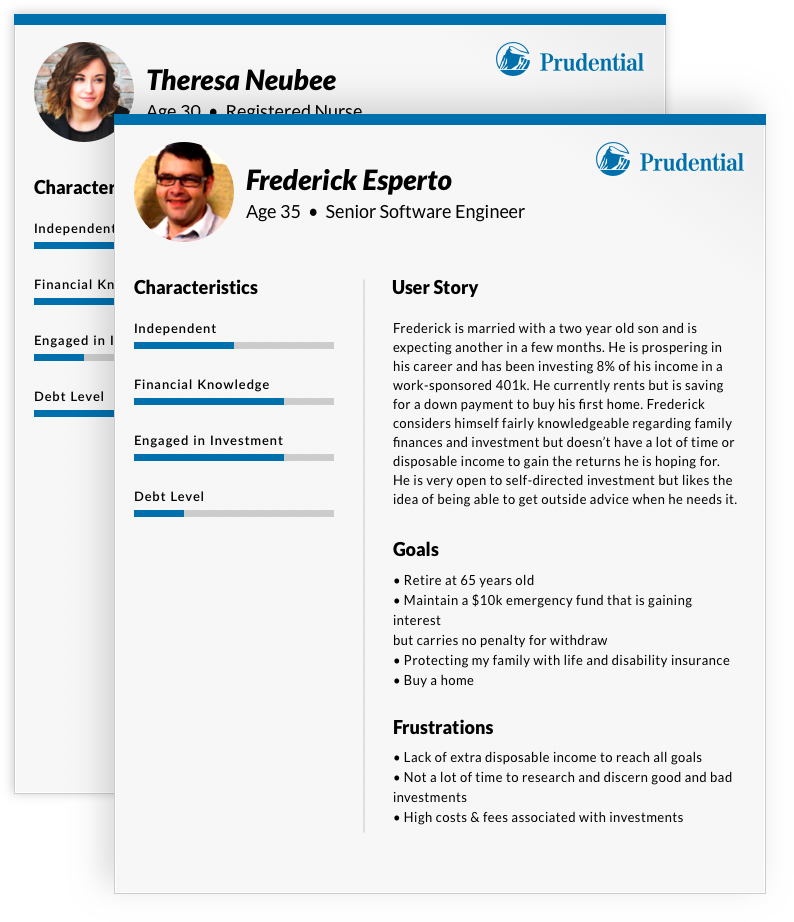 Personas: Self-Directed Goal-Seekers
We wanted to identify customers likely motivated by our product's self-directed aspects, while also discerning typical traits of customers seeking those goals. We also wanted to explore and determine how Link could appeal to the more traditional and generally older advisory client
We evaluated and leveraged existing Pru's Advisory personas, preserving mostly goal based info, but also making adjustments for the new unique online "robo-space". We also factored in business requirements, which from the standpoint of personas, was mainly a hierarchal adjustment of first, second, and tertiary goals.
First-tier goals:
Retirement

Building an Emergency Fund

Family Protection (Insurance)
Second-tier goals:
College Savings

Buy a Home

Buy a Car

Get Married

Custom
Our millennial-aged personas set the tone for our overall Link roadmap management and provided direction and structure for journey-mapping, ideation, prototyping for our eventual 1.0 (MVP) release.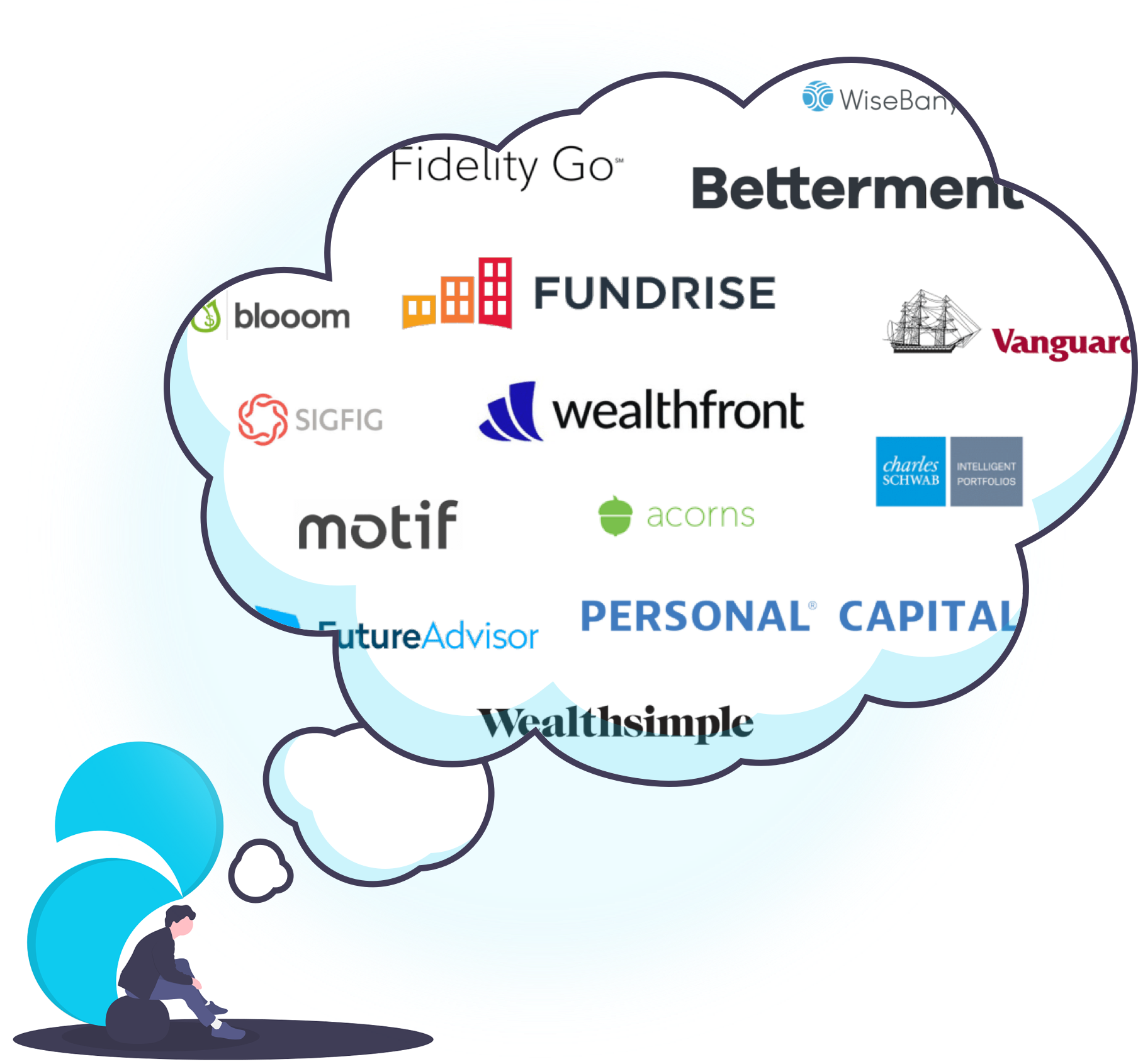 Assessing the Robo Landscape
Conducting competitive analysis, we assessed the offerings, features, and inherent user experiences of several self-directed investment platforms and products.
With key stakeholders, we established a hierarchy of elements and approaches we felt would be most aligned with Prudential Advisory client goals and aspirations and day to day commoon related tasks. We categorically ranked these elements ("must-have", "would-be-nice", and "not needed") providing a loose structure from which we could draw during concepting/sketching.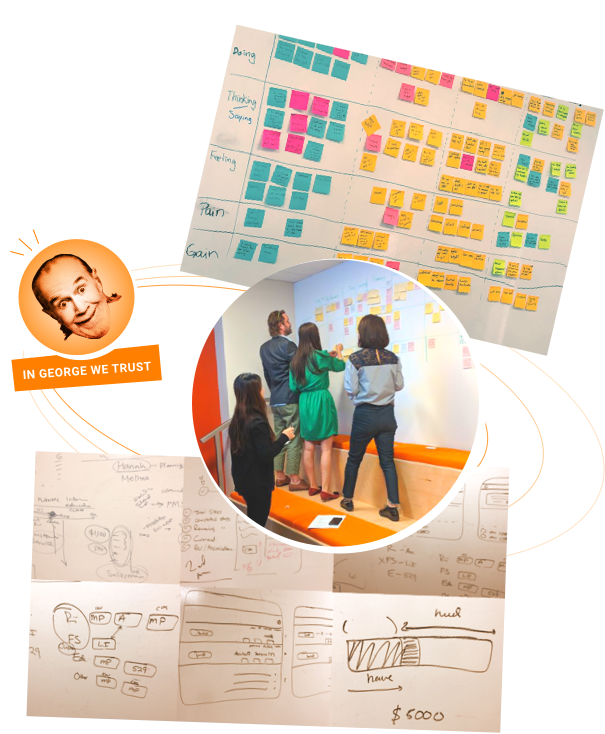 Mapping & Innovation
While rallying participants to join one of our brainstorming workshops, I referred to the event as a "brain droppings session" (a nod to a comedic George Carlin book (published 1997). We tried to keep it light, while we ran and participated in many workshops from discovery, to empathy, to design and prioritizatio,n, and critique.
I led my Pod and other key stakeholders in group whiteboard sketching and segmented storyboarding pertaining to the more heavy visual and interactive junctures within Link.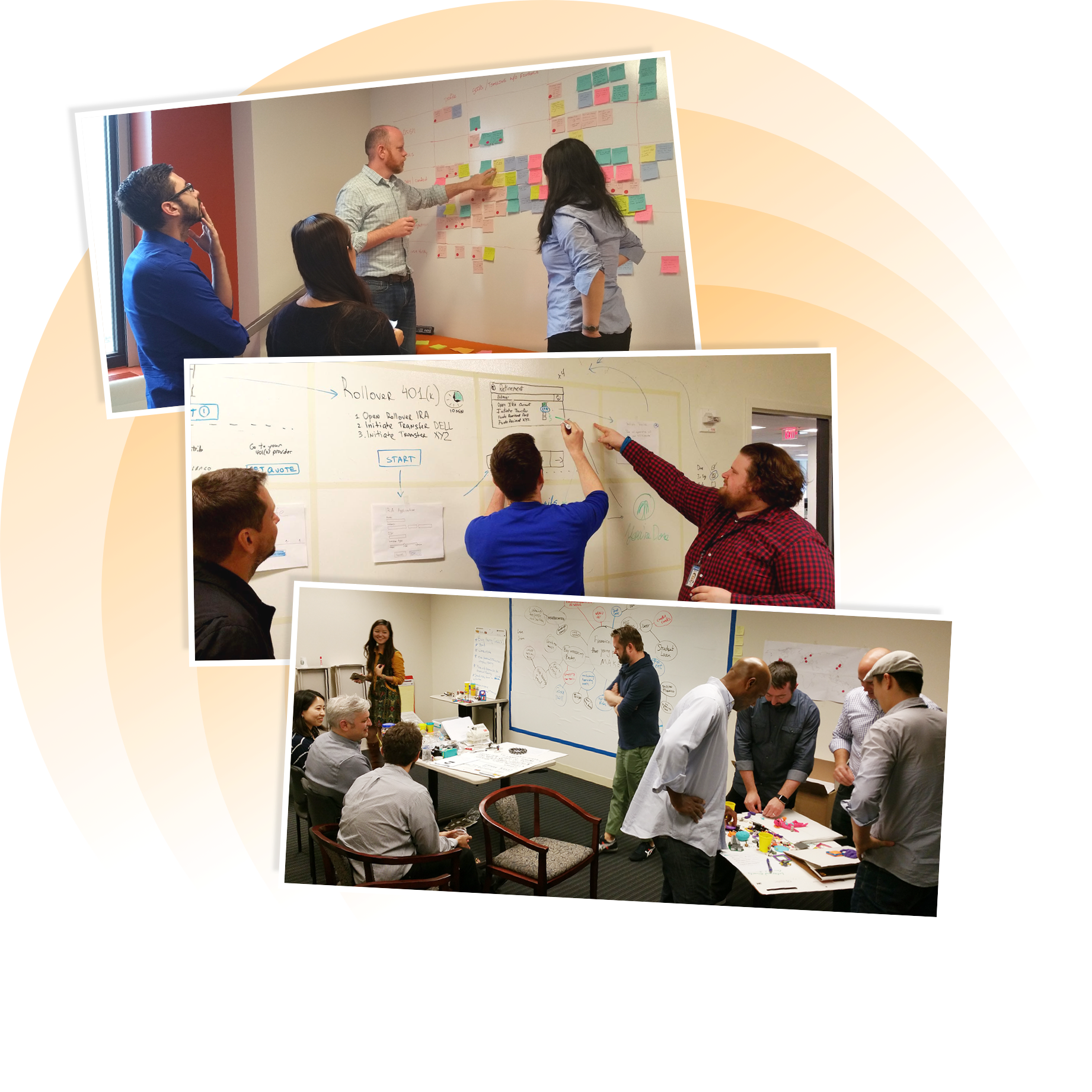 Ideas Taking Form
Our research, analysis, and personas provided us focus regarding customers and the goals they care most about.
Now it was time to rock the designs and get to sketching and storyboarding concepts.
Given our millennial personas, we decided to take the mobile-first approach. Recurring themes of customer goal-achievement and associated timeline became consensus during workshops. We needed to integrate a sort of interview scenario in the app, and it had to be conversational. This would allow us to learn about customers' unique needs so we could offer the right products that would help them reach their goals. We continued to vet, expressing our concept via paper prototyping, card sorting, empathy mapping, and (mostly) wire-framed prototypes that we prepared for usability testing on UserTesting.com.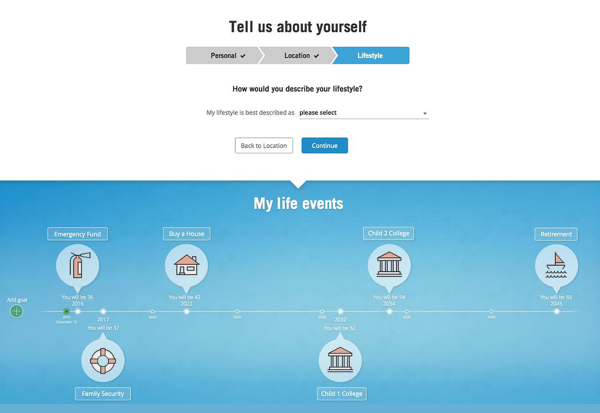 Seeing Our Concepts Through
We created many variations of our concept throughout the Link's design cycle. These concepts were expressed mainly through sketching and wires, with some higher-fidelity one-page composites to better sell to internal stakeholders. Approaches that faired well internally and showed promise during A/B testing were turned into deeper prototypes and tested further.
This process brought into discovery a few themes that would persist through the greater process and into the live product.
At a high level, the product journey would consist of customers answering questions pertaining to money, life stage, and goals. Based on questionnaire answers, goals would populate a timeline in real time and would indicate allocated dollar amounts and estimated goal completion date. Time and required allocation amount could then be improved by adding more detail to the goals. Goals and underlying goal details would then populate a shopping cart of sorts where suggested Prudential products and services could be used to model and adjust goal achievement time estimates.
Mobile-first Riffs
We experimented with the duration, sequence, and flow location of our questionnaire trying varied approaches with respect to UI facilitation. We tried a traditional multi-question questionnaire form, a one-question-per-screen sequence, and a more conversational interactive "texting style" (potentially AI) approach. See example above.
Flow Mapping & Wire Frames
Through site mapping and wire frames, we established a structure for our product that consisted of a beginning (questionnaire), middle (timeline/goal editing), and end (where we give solutions and how to get those solutions going). Our approach would be gather feedback and entered user data, then itemize it all with accompanying solutions in a "shopping cart". Customers would be able to edit their cart or submit. Submit meant that after agreeing to disclosures, customers would apply for or get a call back on the various products that backed their goal-achieving solutions. There was also big integration of Prudential's advisory services, and customers would be able to plan a phone consultation with a financial advisor in their area.

Higher Fidelity Composites & Prototypes
We had a solid product flow and a good set of working wires. We continued to fine-tune them and add to them, representing the three stages of our product flow and select use cases. I then used these polished screens to create an InVision prototype for user testing.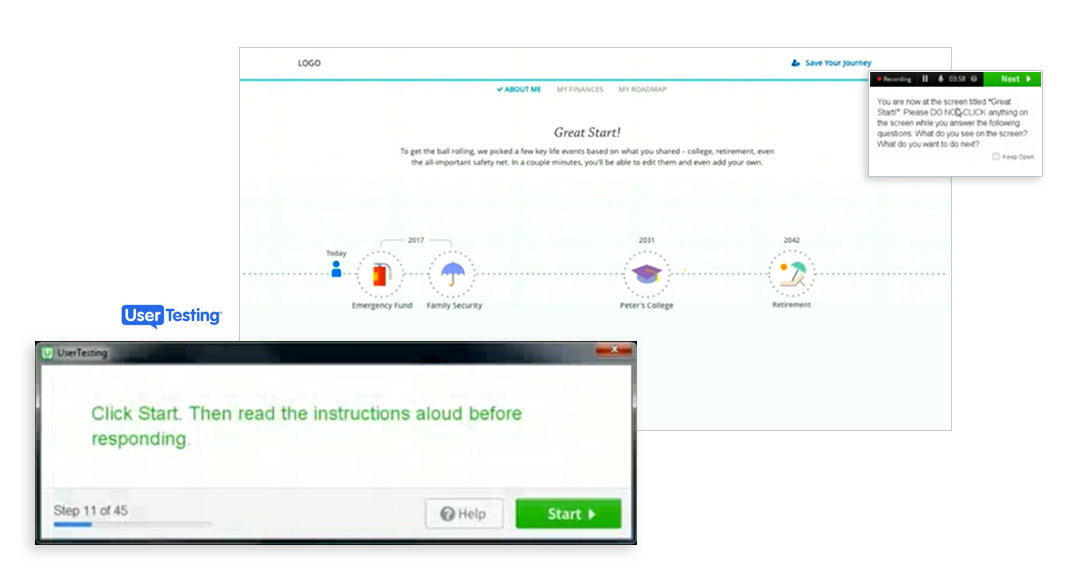 Testing Feedback
We tested our three-stage concept with persona-targeted test subjects using usertesting.com. Most users found the flow and UI of the product to be easy to navigate and understand but some felt the experience was too lengthy. Users wanted the time to completion to be quicker and wanted more reward for doing so. For time spent, some users suggested upping the product's value with things like customized, goal-supporting insight.
We knew personalization was important and that we needed to do a better job remedying what came across in testing as too generic of solutions. We learned that tone and narrative adjustment was warranted and that our product experience needed to provide more guidance. We consulted our Advisory Service internal partners during a workshop and follow-up survey and this helped inform us about some of their time-tested approaches with advisory client interaction. We also experimented with shortening the duration of the initial questionnaire sequence, shifting some of the required content to a latter stage (goal editing in the cart).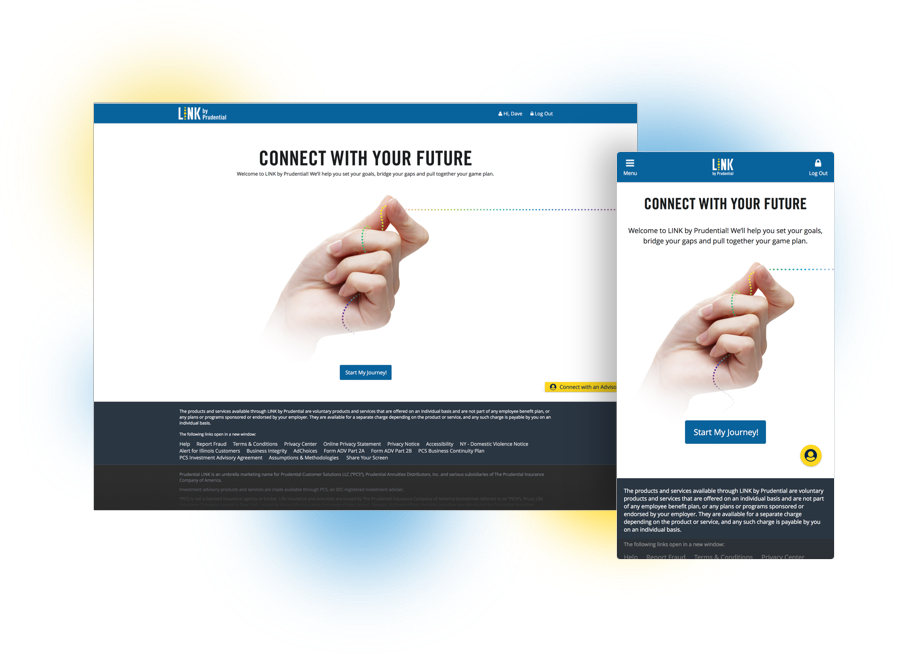 More User Testing
Shortly after we went live with 1.0 (the MVP named with a tagline but no product name: "Your Future. Visualized") we were very excited to open the Prudential usability lab. I attended many testing sessions in our new lab and, along with feedback gained via usertesting.com, gained important insight. We archived video of most of our moderated lab tests which was very helpful for when I could not attend sessions in person and/or future review and reference.

Our research team ran moderated and unmoderated tests leading up to the releases of v1.0 and v2.0 (internally named Advice 2.0, but eventually named LINK by Prudential).

With every round of tests we learned and gained valuable insight which we translated into UI and product flow improvements.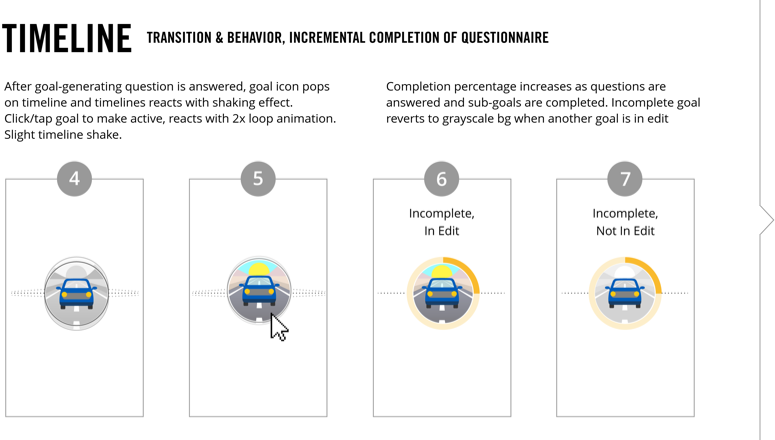 Visual & Interaction Consideration
As Link's Visual Design Director, I steered the platform's visual design strategy and defined it's end-to-end look and feel. This included definition and documentation of foundational design system elements, UI interactions and transitions, and iconography.
What I learned from this project
Link's prospective user base was an interesting mix of debt-conscious millennials and older, more financially established customers. All had diverse views of self-directed investing and unique advise-seeking proclivities. This guided the thinking of our design in interesting ways.
One powerful theme that resurfaced during much of the testing was that usability does not always indicate value. Throughout our discovery and usability testing, session participants expressed that they liked the flexibility, task-supporting flow, and educational overtones inherent in the platform. Most also expressed likability for the look and feel and felt it helped support the "add/edit goals" task inherent in the task flow. Some of the same customers however also commented that reaching a completed state of the personal goals profile and associated goals timeline required too lengthy a time requirement. Participants expressed that for the time invested (to get through the demo), the quality of the reward (light investment advice) could be improved. Some felt the solutions provided for the goals leaned generic and could have been more personalized.
As of early 2019, Link had some maturing to do. I feel the platform is viable and a creative way to allow prospects to test the waters of advisory services by getting a visualization of their financial future while being introduced to potentially helpful products and services. Our teams hit the mark in impressive ways with Link regarding usability. However while initial intrigue and usability are essential ingredients to Link's success equation, overall enduring value must be based on continued attention and care regarding user's motivation and quality of reward. With more personalization, value-adding features (such as outside account balances importation ability), better integrated advisory aspects, and enhancement of the consultative feel, the Link experience could become an important tool for Prudential. Continued improvement to the tool could mean Prudential customers means maintain better financial health and keep their eye on the prize of reaching their financial goals.
+++